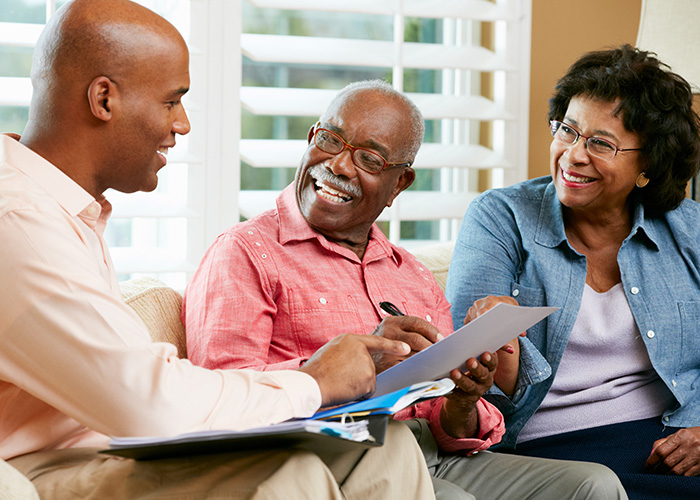 Onsite health care CLINICS in senior living communities
Although the concept is certainly not new, the idea of convenient, in-house clinics within a senior community is becoming more and more popular—and essential—as baby boomers age. What's more, recent studies show that offering primary care on-site in a residential setting reduces hospital readmissions, as well as extends life expectancy.
The Carrington at Lincolnwood has embraced this growing trend in health care services by way of two important partnerships: one with Hansa Medical Groupe (HMG) providing onsite specialty care for residents, and a second with Open Arms Solutions Personal Care at Home. Both medical programs offer numerous benefits for The Carrington's residents. As we profile both HMG and Open Arms Solutions here, we'll share the many advantages our residents enjoy. Two in particular offer incredible value and undeniable peace of mind for our residents AND their families:
Access to primary and specialty care services without leaving the community.
Unparalleled value of nighttime attention and care during health-related episodes.
Keep these benefits in mind as we tell you why Hansa Medical Groupe and Open Arms Solutions mean so much to the lifestyle at The Carrington.
Hansa Medical Groupe
If you thought "house-calls" were a thing of the past, you are going to love—and appreciate—the story of HMG. In the summer of 2008, Dr. Chiraq Patel of Wilmette launched HMG, a one-doctor practice offering an old-school solution to a modern medical dilemma—taking quality medical care to seniors in their homes. Practicing internal medicine for more than a decade, Dr. Patel says he was often dealing with elderly patients who couldn't travel to clinics as often as they needed to because of a stroke, arthritis, or the limited availability of family members to drive them.
"Over the years, we realized that something like the 'horse and buggy' doctor from 50 years ago would really help many of our patients," Patel said. Hard-pressed to travel to medical appointments, these seniors and their adult children supported Dr. Patel's specialized practice and he soon carved out a niche in home-visit medicine in Chicagoland.
Hansa Medical Groupe continued to grow, true to its vision of delivering uncompromised medical care with ultimate grace and compassion. (In the Gujrati Indian dialect, Hansa means 'swan' and signifies, per Dr. Patel, the way HMG practices medicine—with grace, elegance, and compassion.)
What does Hansa Medical Groupe bring to The Carrington?
A team approach: HMG is a concierge-style medical practice providing onsite comprehensive medical care—primary and specialty—to patients who reside in senior living and assisted living communities. Service and care incorporate a "team" approach involving the community staff. Working closely with this staff, HMG keeps patients healthier and happier while they reside in the comfort and convenience of The Carrington.
"Over the years, I realized it takes a team approach to help the geriatric population. This includes not only the physician but the great staff at senior housing locations, visiting nurses and therapists, family members, and even others in the community. Working together as a team and having great communication with families really makes a difference for our HMG patients."
Chirag Patel, MD, CEO & Medical Director
Hansa Medical Groupe
More valuable HMG benefits
In addition to access to primary and specialty care services without leaving the community and the unparalleled value of nighttime attention and care, Hansa Medical Groupe enhances The Carrington lifestyle by bringing the following additional benefits to residents:
Access—seven-days-a-week, including holidays—to the convenience of home-based medicine administered by well-trained medical professionals who have the highest level of skill and education.
Promotion of independence, healthy living, preventive medicine, and overall positivity of The Carrington culture. Every patient/resident is treated as a beloved family member.
Onsite visits by primary care physicians and specialists in internal medicine, cardiology, nephrology, pulmonary, urology, and neurology.
A focus on preventive care—HMG professionals consult with patients, determine the needs, and make recommendations and orders for community staff to carry out each day.
Elimination of transportation hassles to outside medical care for residents and their families, especially nice during the harsh winter months.
No busy waiting rooms or impatient, rude office staff. Care services are administered by professionals our residents see at The Carrington every day.
HMG care and attention to detail are proven to help:

Prevent emergency room visits
Minimize hospitalizations and improve outcomes
Delay the need for skilled care
Decrease life insurance premiums
Open Arms Solutions Personal Care at Home
Open Arms Solutions—just like HMG—has a beginning that's founded upon personal objectives and family needs. Open Arms President Julie Kollada's mother Jeanne was given a diagnosis of dementia and Alzheimer's disease leaving her completely dependent. Julie and her family—like so many adult children today—were left to figure out lodging, care, insurance, and finances for Jeanne, along with a vast web of questions.
And so it began for Julie—an introduction to and education in senior healthcare and its support team of home, assisted care, skilled nursing, and hospice professionals, along with attorneys, physicians, nurses, therapists, and more.
Based on her firsthand experience, Julie made the long-term commitment to give back by guiding other families through the toughest of times, providing education, relevant resources, and referrals, and helping seniors regain, maintain, and preserve their independence and quality of life.
She founded Open Arms in 2009, and, with her business partners who share significant personal and professional experience in providing solutions for seniors, Julie has helped hundreds of families navigate the challenges of aging and illness.
Expertise in senior home care
Open Arms Solutions is a fully licensed, bonded, and insured home-care agency dedicated to helping families find exceptional care for their loved ones. This personal, award-winning service has been providing Chicagoland families the highest level of expertise in senior home care. The following core values define Open Arms Solutions and The Carrington residents benefit from this incredible partnership offering onsite home-care services:
Teamwork and collaboration are considered foundational to the Open Arms team.
Compassion and empathy guide the actions of every Open Arms team member.
Do the right thing by delivering on the Open Arms promise to families.
Above & beyond the normal job description or 9-5 day—the Open Arms mantra.
Positivity drives the Open Arms attitude and focuses on moving toward solutions.
THE FINAL SAY: Only the best
West Bay Senior Living manages The Carrington—bringing veteran leadership in senior living, as well as an on-location presence that sets the tone for providing truly personalized, caring, and dedicated services to residents. Hansa Medical Groupe and Open Arms Solutions are the perfect fit for The Carrington lifestyle. We are proud of this partnership!
Experience the life of active independence at The Carrington at Lincolnwood by calling (847) 744-9469 for a personal tour and complimentary lunch.