To Cherish and Nurture the Person
In The Carrington's Memory Care neighborhood, our highly trained and caring staff dedicate each day to individualized life-affirming activities to enrich the lives of residents by embracing and celebrating everything they do. This person-centered, activities-focused philosophy is grounded in the belief that the abilities that remain for each person are far more important than what is lost.
A focus on three research-based components of personal connection helps to keep the "person" at the center of care.
Personal Care: Being able to continue with simple things like dressing, washing one's face or combing hair play a significant role in self-esteem.
Personal Productivity: Each person needs to feel like they are contributing. Based on abilities, activities like baking or gardening provide a sense of accomplishment.
Personal Leisure: Staying engaged in relaxing lifelong pursuits like reading or walking create an atmosphere of continuity.
The Memory Care neighborhood is a vital component of the range of residential and healthcare choices, joining Independent Living and Assisted Living at The Carrington at Lincolnwood. Such living transitions assure residents they can remain at The Carrington; confident additional care is available if needed. Plus, with the Predictable Lifetime Pricing Guarantee, day-to-day costs are known, even if a loved one transitions to a higher level of Memory Care in the future.
Memory Care Amenities
The Memory Care neighborhood at The Carrington at Lincolnwood is a much-welcomed option for those with Alzheimer's or other forms of dementia – and their families – who want to remain close by.
Dedicated and secure neighborhood with courtyard & walking areas
Three nutritious daily meals served in the dining room, plus snacks
Country kitchen for group or family meal preparation
Activities/craft room
Comfortable & welcoming living areas
Weekly housekeeping
Weekly laundering of flat linens
Scheduled local transportation to medical care, shopping & community services
Maintenance of community spaces & campus grounds
Community-wide Wi-Fi
Paid utilities for electricity, water, gas, trash, basic cable television & property taxes (personal phone not included)
24- hour staffing for peace of mind
On-site EMT Station operated by The Village of Lincolnwood
Emergency pull-cord notification system in residence baths
Beautiful, welcoming atmosphere
Bridge Memory Care is a dedicated neighborhood of Assisted Living residences at The Carrington.
All-private rooms, creating a comfortable, safe home that can be personalized with resident's favorite things
Includes all of the standard Assisted Living services and amenities plus innovative memory loss support program
Pet friendly
Structured routine and caring support
The Bridge neighborhood offers a structured daily program that begins with relaxation and meditation. Residents participate in a full range of therapeutic and engaging activities, including the research-proven benefits of social engagement for brain health.
Physical Exercise – Enhances strength, balance, flexibility and endurance
Stress Reduction – Includes methods such as guided meditation, yoga and Tai Chi, as well as daily journaling to help residents reflect on feelings, accomplishments and daily events
Cognitive Exercise – Memory support programs to strengthen and maintain cognitive abilities
Purposeful Social Activities – Includes home and life skills that promote independence, plus occupation-based activities to reinforce residents' identities and create a sense of purpose
Support Groups – Encourages residents to find comfort through shared experiences with memory loss
Brain-Healthy Diet
Residents enjoy meals in a beautiful neighborhood dining room featuring foods high in antioxidants, rich in vitamin E, and low in saturated fats and sodium—all known to promote brain health.
Individualized Care Plan
Our specialized care team conducts an initial evaluation and provides an Individualized Service Plan (ISP) to personalize each resident's care needs. Monthly reassessments check for stabilization or improvements. (Updated quarterly results provided to family).
The Bridge Memory Care is available to current residents of The Carrington at Lincolnwood, as well as to residents from the surrounding area.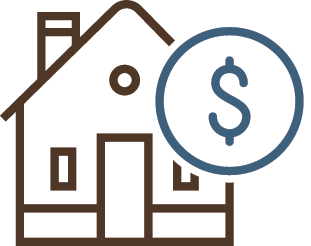 COST COMPARISON CALCULATOR
Calculate and compare cost of appropriate care level vs. cost of remaining at home.
Memory Care Residences
The Carrington at Lincolnwood Memory Care neighborhood offer specialized memory care residences, including 44 private studio or private rooms with shared baths. These residences are designed to ensure a relaxing, yet secure environment to call home. Each accommodation is ready for your loved one's furnishings, belongings and personal touches.
Memory Care residences starting at $6,950 per month.
If you or your spouse are a veteran of the armed services, you may be eligible for benefits under the government's Veterans Aid and Attendance program. We are happy explore options with you. 
Interested in learning more about Memory Care at The Carrington at Lincolnwood? Simply fill out the brief form below and you will gain access to a wealth of additional details on our many offerings.