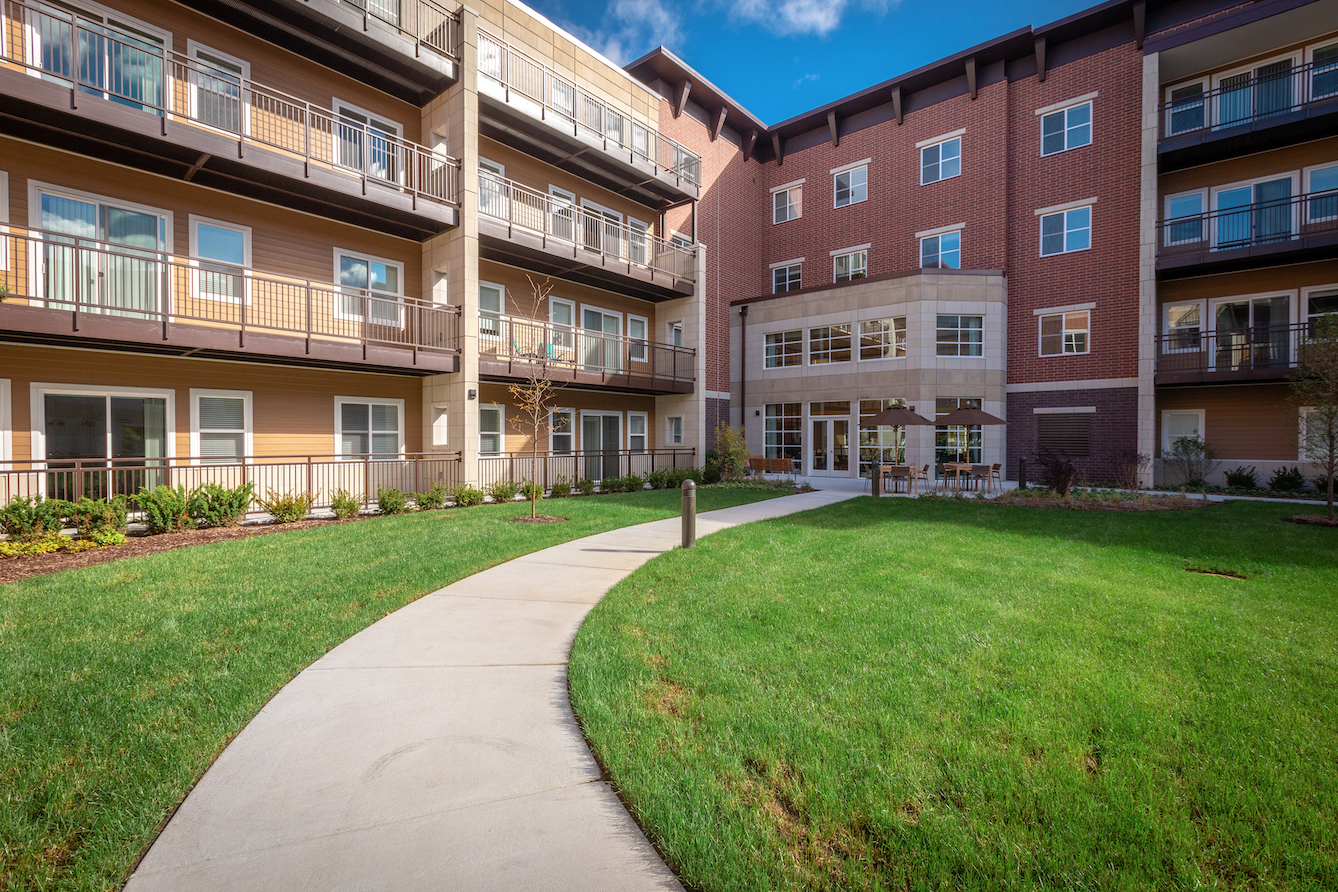 Many people research senior living communities by reading brochures or visiting websites—like you're doing now. Those are great starting points, but if you want a full picture of your options, it's worth taking the time to visit communities in person. That way, you can zero in on the facts—all the details that distinguish each community. Just as important, your visit helps you understand the heart of each community—the unique feeling residents have when they live there.
To get the most out of your visit, it helps to have a list of questions in mind before you visit. Ask the same questions at each community, so you can easily compare the answers.
8 questions to ask during your visit
Think of these as starting points—with one question leading to another. You may have other questions that apply to your particular situation. The goal is to dig deep and get a complete picture of each community.
Question #1: Who owns and manages the community?
> Was it specifically designed for this area?

These questions will help you get a feel for the overall vision and direction of the community. For instance, The Carrington at Lincolnwood was designed and built specifically to meet the needs of seniors in Lincolnwood, Skokie and the surrounding Chicago neighborhoods, as well as seniors with adult children living in the area.
---
Question #2: What services are included in the monthly fee?
> What costs extra?
Senior living communities typically offer a range of services as part of the monthly fee. For instance, independent living services at The Carrington include maintenance, restaurant-style dining, planned events, social activities, and more. (As a rental community, there's no entrance buy-in fee at The Carrington.)
---
Question #3: How does the meal plan work?
> Is it flexible for people who want to dine at different times or at different dining venues?
> How many entrée choices are on a typical menu?
> Is there an emphasis on special dietary needs?

Some communities, including The Carrington, offer a flexible dining program for independent living that includes a monthly credit for residents' choice of meals and dining venues.
---
Question #4: What programs are available to help residents stay well?
> Is there an on-site fitness center and/or pool?
> Does the typical resident participate in wellness activities?

Wellness is a hot topic among senior living communities. The key is to determine if the community actively engages residents to participate.
---
Question #5: What safety features does the community have?
> Does someone check on residents each day?
> How do residents get help in case of an emergency?

Recognizing that peace of mind is a key reason why residents and their families choose a senior living community, The Carrington makes security a top priority, with 24-hour staffing, personal security response pendant service, and other optional safety features.
---
Question #6: Who are the typical residents?
> Are they from the area or have family in the area?
> Are they out-and-about and actively involved in the community?

You'll discover these answers simply by observing residents during your visit.
---
Question #7: What types of activities are offered at the community?
> How is the activities program at this community different from other communities?
> What are some of the community's most popular activities?

Find out if the community offers unique and interesting activities that entice residents to participate.
---
Question #8: What health services are available on-site?
> Do current residents have priority access to on-site care?
> What is the staff-to-resident ratio in each level of care?

These questions will vary depending on the care options available at each community. For example, The Carrington offers assisted living with an emphasis on helping residents remain as independent as possible. The community also offers a progressive approach to memory care in a neighborhood-style environment.
---
Compare your answers.
Write down the answers to each question as you visit communities. You might even want to create your own comparison chart or spreadsheet, so you can easily see the similarities and differences. All of this information will help you make a smart and informed decision. Try our cost calculator to compare the cost of senior living options.
The Carrington welcomes your questions—contact us! Call (847) 744-9469 to schedule an appointment for a tour and complimentary lunch.